RRRAGAZZE
"RRRagazze is a reflection instrument
about the work of female artists which is
developped through a chain of
declarations, images, incitements,
memories.
To the question "Why is it a book
by women only?",
we can answer that their work is more nimble, more supple and more immediate
for a meeting between history and humanity.
Only nowadays their work is really evident,
current and it has acquired a
research speed which is not frenzy
but a continuous verification and
comparison."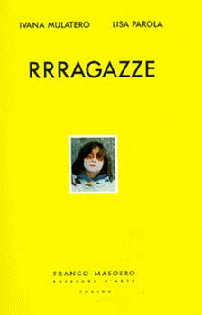 The artists we have met are:
Carla Accardi, Betty Bee, Enrica Borghi,
Giulia Caira, Monica Carocci,
Dadamaino, Chiara Dynys,
Matilde Domestico, Giosetta Fioroni,
Alessandra Galbiati,
Luisa Lambri, Antonella Mazzoni,
Anna Muskardin,Carol Rama, Paola
Risoli, Luisa Valentini, Elke Warth.


IVANA MULATERO
(Rivoli 1962),
editor and journalist
of "Juliet Art
Magazine" in
Torino. Some
Experiences: Pose
Sacro Monte di
Varallo, Vercelli
1993
Giardino dell'Arte 2
Giardini di Piazza
d'Armi, Torino 1995
Konrad Lorenz's
duck
Ex Lanificio Bona
Carignano 1995
Nuovi Arrivi San
Filippo Torino
'95/96/97
Va'Pensiero
Promotrice di Belle
Arti
Torino 1997

LISA PAROLA
(Torino 1964),
works like a
critic and journalist
on "Torino Sette"
page (La Stampa).
Founded
"coordinamento
a.Titolo"
(Torino)
Already published
Marco Gastini
(Hopefulmonster
1994)
Ugo Nespolo (Bolaffi
1996)
Generazione '80
(Lindau 1997)