LAURA AMBROSI "SHADOWLAND"
of Tiziana Conti

A shadowland, desolate, where man has become a frail presence,
where comunication is silent or even worse, it is reduced to a linear
information.
This worrying image reveals a humanity subdued by anxiety, by a
painful denial of life, in a temporal dimension that, as Ingeborg
Bachman asserts, it is now "postponed", it is granted, but can continually
be "recalled".
The reflection on the loss of a existential horizon constitutes the thematic
nucleus on which Laura Ambrosi moves from the very beginning.
Her acrylics on wood, her charcoals, her red crayon drawings always
turn to the main idea of the human being's moving towards the centre of
the earth, metonomy of the enigma, of the unfathomable abyss of the soul.
The fact that the being is asexual underlines the loss of identity, his
reduction to a body oppressed by his own burden, a closed shape,
an abstract involucre which does not reflect armony, rather it
characterizes the ontology of the emptiness.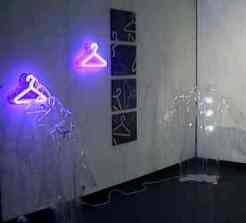 For that reason the co-ordinates of the man-icon are
the enstrangement and the absence, they are exemplified
through figures that are exactly alike, imprisoned in
the elementary of their own structure.
Taking body from such preliminary remarks the Installagmiti,
sculptures in alveolar polycarbonated, shapes "plunged"
partly in the ground, curved, curled up on themselves,
to the fervish search of a possible placing.
Seen from above, they seem freezed puppet in an
omnivorous enviroment in which they "spend" without
beeing able to leave a durable trace.
From this imploded situation, the search subsequently
spreads over a wider semanthic sphere, in reply to the
necessity of a semanthic trial which makes concrete the
qualitative whole that pervades the reality.
The enlargement of the speech allows to surpass the
ontological closing, establishing a relationship between
man and "object". The speech is as easy as effective.
The every day in which we are plunged is populated by
a variety of banal, ordinary objects, often unnecessary
and redundant.